Turn back the clock!

The safe, effective, and non-invasive way to tighten, firm, & smooth the face and neck.

•Tighten, Firm & Smooth

Firm loose skin of the face and neck, tighten, and tone to regain a youthful, supple complexion.

•Visibly Reduce Wrinkles

Reduce fine lines, wrinkles, from the face and neck and soften expression lines around the eyes.

•Contour the Neck & Jaw

Defined your jawline, tighten your neck, and lift your brow for a naturally youthful and fresh appearance.

•Reduce Acne Scars

Activate collagen and gently break down scar tissue, revealing a smoother surface.
Combat Aging
We get fine lines and wrinkles as we age due to a loss of collagen fibres and reduced activity of Fibroblasts. By heating the collagen fibres, Tripolar RF Face treatments cause the immediate contraction and tightening of the fibres and, firming and toning loose skin. In addition, any unwanted fatty pockets in the face and neck area, such as under the eyes or in the 'jowl' area, are reduced when the Tripolar RF Face treatment stimulates natural metabolism of the fat, reshaping the treatment area. See immediate visible results after just the first treatment. Your skin will be smoother, tighter and have a more youthful overall texture. Your results will continue to improve with additional treatments and, best of all, results are long-lasting because the stimulated Fibroblasts continue to produce new collagen over the next few months. A series of 3 sessions are recommended.
How It Works
1) Heat Collagen
2) Release Fatty Pockets
3) Smooth & Tighten
Heat Collagen: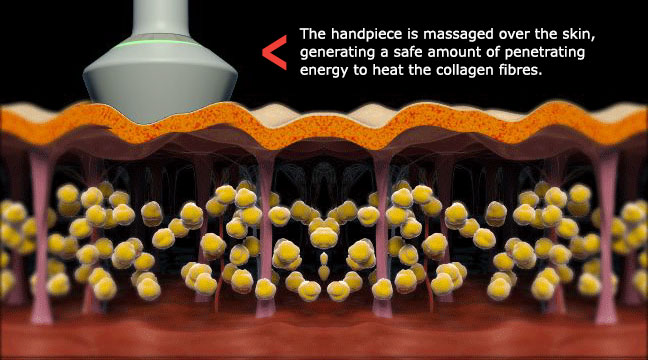 Release Fatty Pockets: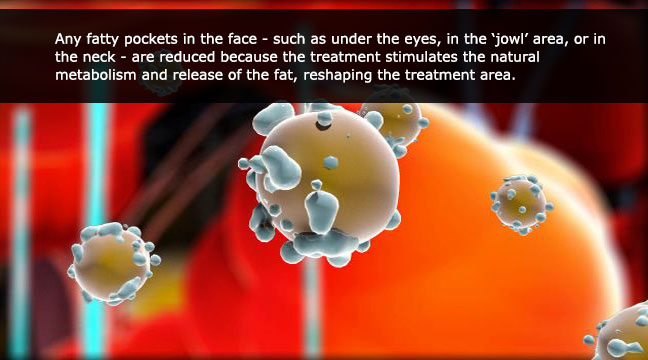 Smooth & Tighten: